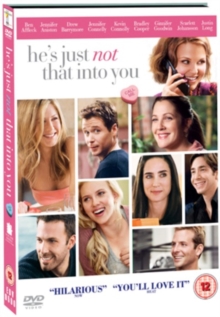 He's Just Not That Into You
(12) Suitable for 12 years and over.
Romantic comedy based on the self-help book of the same name by Greg Behrendt and Liz Tuccillo, which, in turn, was based on a dialogue line in the hit TV show 'Sex and the City'.
The film chronicles the relationships of several Baltimore couples, all of whom have one thing in common: one person in each couple is a lot more into their partner than vice versa.
The multiple storylines include married couple Janine (Jennifer Connelly) and Ben (Bradley Cooper) who are going through a rough patch, leading him to flirt with aspiring singer Anna (Scarlett Johansson).
Anna, in turn, is dating Connor (Kevin Connolly), but is clearly less interested in him than he is in her.
Newspaper editor Mary (Drew Barrymore), who helps Connor promote his real-estate business, is also having difficulties understanding the semiotics of dating.
Meanwhile Neil (Ben Affleck) and Beth (Jennifer Aniston) have been living together for several years, but their relationship hits a brick wall when Beth expresses her desire to get married and Neil refuses.