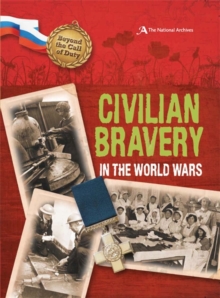 Civilian bravery in the world wars
0750284234 / 9780750284233
Stock expected by 21/04/2021
25 cm 32 pages : illustrations (black and white, and colour), map (colour)
Primary & Secondary Education (US: Elementary & High School) Learn More
Reprint. At head of cover title: The National Archives. Originally published: 2014.
Could you pull a man from a burning building during a bombing raid? Or lead a hospital column through mountains in the freezing cold?
Could you dig a survivor from a wrecked building, or drive an ambulance full of wounded through heavy shelling?
That is just what the people in this book did! Civilian Bravery in the World Wars looks at ordinary individuals who have acted with outstanding bravery and courage in wartime.
These people risked their own lives to help others in frightening and dangerous situations.
Documents, images and records from The National Archives have been used to recreate each real-life act of courage.
Context panels give more information about the events of the World Wars, and the reasons that people were put in dangerous situations.
A great study guide for the events of the World Wars and how warfare began to affect ordinary civilians for the first time.
Ideal for tying in with the centenary of World War 1. 'A second thought' feature boxes ask readers to think again about the story they have read and aspects of it that would have required difficult and quick decision making.
The Beyond the Call of Duty series remembers and records acts of great bravery in both World Wars.
Other titles in the series look at the courage of people in the armed forces, and of animals in wartime.
BIC: