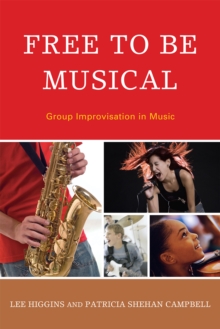 Free to Be Musical : Group Improvisation in Music
1607094983 / 9781607094982
Stock expected by 31/10/2021
155 x 232 mm, 200 grams 150 pages
Free to Be Musical: Group Improvisation in Music is for those who lead musical experiences in the lives of children, youth, and adults.
Offering a set of experiences to inspire creative musical expression, this book will prove useful for music education majors, practicing music teachers, community musicians, and music therapists alike.
The experiences (or 'events') are designed to reduce the musical barriers that Western societies pass on to children by the time they reach the 'age of reason,' when the natural childhood penchant to sing, dance, and play musically gives way to perfect performances of standard repertoire preserved in Western staff notation.
The authors present ways to encourage music that is expressive and inventive, spontaneous yet thoughtful, communal and collaborative, and unlimited in its potential to bring fulfillment to those who make it.
You'll find opportunities to release the musical imagination in ways that are free and expansive, playful and instructive, personal and interpersonal.
Higgins and Campbell have created a context that validates the experiments and explorations of all people who are potential makers of all styles of music.
Their musical events embrace the belief that music-making is 'a trail of no mistakes,' a celebration of the many and varied musical pathways that both teacher and student can take.
BIC: