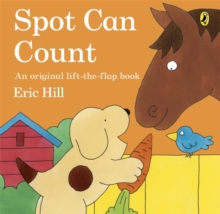 Spot can count
Part of the SPOT series
0141343796 / 9780141343792
25 cm 24 unnumbered pages : chiefly illustrations (colour)
Reprint. Originally published: London: Frederick Warne, 1999. Lift-the-flap book.
Spot Can Count is a classic Spot book by Eric HillIn this classic Spot book, flaps on every page reveal an increasing number of surprises as every toddler's favourite puppy, Spot, counts from one to ten, meeting farm animals along the way.
One small mouse under some sacks is followed by two squirrels in a tree - all the way to ten cows in a barn.
This book is lots of fun and full of surprises - and the perfect early learning tool for children learning to count. This new, bigger, edition, really brings this classic Spot story to life. Eric Hill was born in North London in 1927 and, apart from a brief period of evacuation, lived there for many years.
His career as an artist began when he was employed as a messenger in an art studio and was encouraged to draw.
Eric's son was born in 1976 and he began to write stories about a puppy to read to him at bedtime, and so Spot was born. Don't miss any of the other Spot lift-the-flap classics:Where's Spot?; Spot's First Walk; Spot's Birthday Party; Spot's First Christmas; Spot Goes to School; Spot Goes on Holiday; Spot Goes to the Circus; Spot Goes to the Farm; Spot's First Easter; Spot's Baby Sister; Spot Stays Overnight; Spot Goes to the Park; Spot Goes to a Party; Spot Bakes a Cake; Spot Visits his Grandparents; Spot Can Count; Who's There, Spot?; Spot Says Goodnight
BIC:
YBCH Picture books: character books, YBGP Pop-up & lift-the-flap books, YBLC Early learning: numbers & counting