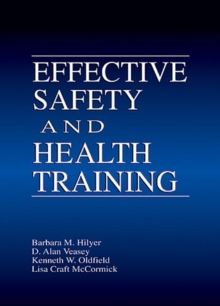 Effective Safety and Health Training
1566703964 / 9781566703963
Usually dispatched within 2 weeks
156 x 234 mm, 635 grams 344 pages, 58 Halftones, black and white; 12 Tables, black and white
Is it possible to develop a fun and effective training program?
Most workers view attending a training session as they do going to the dentist, which leaves trainers feeling very unappreciated and frustrated.
Effective Safety and Health Training can turn trainers into Santa Claus - everyone will look forward to their visits.
The presents they bring: interesting topics and trainee involving methods, wrapped in respect for workers and a consideration for their needs. Hilyer takes you from ground zero through the process of planning, preparing, delivering and evaluating an adult training session of from one to one hundred hours.
She teaches you how to motivate your trainees. They will understand and retain the information, enjoy the course, and apply the learning to their work and their lives. Effective Safety and Health Training provides the educational theory and the practical guidelines to train effectively and enjoyably.
A nuts-and-bolts book, it takes you through the development and delivery of effective safety and health training programs.
Best of all, your trainees will have fun!
BIC:
JNRV Industrial or vocational training, KJMV2 Personnel & human resources management, KNXC Health & safety issues