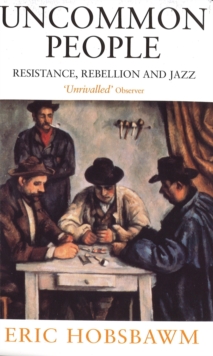 Uncommon people : resistance, rebellion and jazz
0349112282 / 9780349112282
Usually dispatched within 4 weeks
Reprint. Originally published: London: Weidenfeld & Nicolson, 1998.
This collection of 26 essays ranges over the history of working men and women between the late 18th century and the late 20th century and brings back into print a selection of this celebrated historian's pioneering studies into labour history, together with more recent reflections.
Eric Hobsbawm's penetrating essays on labour history and social protest opened up a new field of study and set standards of wide-ranging, evocative, incisive analysis.
Essays in this collection include the formation of the British working class; labour custom and traditions; the political radicalism of 19th-century shoemakers; male and female images in revolutionary movements; revolution and sex; peasants and politics; and the common-sense of Tom Paine.More recent essays include meditations on the May Day holiday; the Vietnam War; socialism and the avantgarde; Mario Puzo, the Mafia and the Sicilian bandit Salvatore Giuliano; and the cultural consequences of Christopher Columbus.
Throughout these essays runs a passionate concern for the lives and struggles of ordinary men and women - uncommon people, all of them.
BIC:
HBTB Social & cultural history, JHBL Sociology: work & labour, JPA Political science & theory