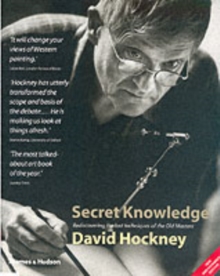 Secret knowledge : rediscovering the lost techniques of the old masters (New and expanded ed)
0500286388 / 9780500286388
30 cm 328 p. : ill. (chiefly col.)
"Secret Knowledge" created an international sensation when it was published in 2001.
Now, Hockney takes his controversial thesis - that some of the masterpieces of Western art were created using optical devices - even further in light of new and exciting discoveries.
In 32 new pages, he demonstrates how Renaissance artists used mirrors and lenses to help them develop chiaroscuro, perspective, and the arts of depicting three-dimensional space and forms.
Stunning in its presentation and wide-ranging in its implications, "Secret Knowledge" remains the art book sensation of the new century.
BIC:
AC History of art / art & design styles, AFC Painting & paintings