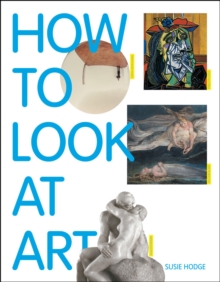 How to look at art
1849762236 / 9781849762236
27 cm 128 pages : illustrations (black and white, and colour)
Following on from her bestselling book How to Survive Modern Art, Susie Hodge once again tackles a dauntingly complex subject: how can we evaluate, explore and respond to art?
With the power to affect us all, art can be enjoyed in many different ways.
Its impact can be both straightforward and unexpected.
It can change our minds or our attitudes, provoke anger or shock, or make us laugh or cry.
It can intimidate, disconcert, pose conundrums or puzzles, or instruct or enlighten.
Ultimately, it offers a window on society's values and ideals, and every work of art expresses the perceptions and memories of the artist who created it.
In her characteristically engaging style, Susie Hodge shows us how to interpret and respond to a broad variety of artwork and artists' philosophies.
This enormously stimulating book enriches our experience of art, and in the process enhances our own creativity.
BIC: