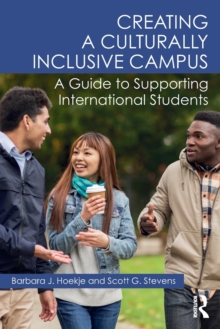 Creating a culturally inclusive campus : a guide to supporting international students
0415786746 / 9780415786744
Colleges and universities increasingly recruit international students yet may lack the systems to foster these students' academic success and identity as valued members of the campus community.
Sharing case studies of students and examples of innovative initiatives, this book explores strategies and key recommendations for universities to re-conceptualize their programs to better welcome and support international students.
Emphasizing the relational aspect of academic and campus life, the authors provide a framework that supports students from initial contact through graduation.
Carefully researched and addressing issues of language, engagement, and culture, Creating a Culturally Inclusive Campus offers universities innovative strategies for helping all students fulfull their academic goals while also contributing meaningfully to their school's global mission.
BIC:
CFDM Bilingualism & multilingualism, JNFR Multicultural education, JNM Higher & further education, tertiary education