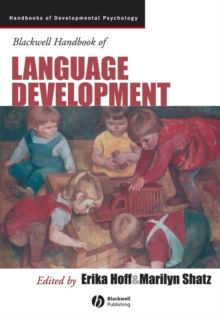 Blackwell handbook of language development
1405132531 / 9781405132534
Stock expected by 01/02/2020
postgraduate Learn More
research & professional
undergraduate
"The Blackwell Handbook of Language Development" provides a comprehensive treatment of the major topics and current concerns in the field.
Including new academic terrain such as brain development, computational skills, bilingualism, education, and cross-linguistic comparisons, this volume explores the progress of 21st-century research in language development while considering its precursors and looking towards promising research topics for the future.
This balanced and accessible volume collects the work of a generation of researchers who are extending the scope of the field to consider multiple internal and external bases for language development and to address a wide range of language development outcomes.
Presenting recent research in the traditional topics of language development from infancy through early childhood, this book also expands upon those topics to include work on older children, exploring how linguistic knowledge develops with experiences such as learning a second language and acquiring writing skills.The expansive coverage of foundational and emerging topics makes this book an excellent resource for researchers, instructors, and graduate students in developmental psychology, linguistics, and education.
BIC:
CFDC Language acquisition, JMC Child & developmental psychology