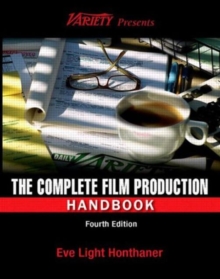 The complete film production handbook (4th ed)
024081150X / 9780240811505
28 cm xviii, 524 p. : ill.
This book is for working film/TV professionals and students alike.
If you're a line producer, production manager, production supervisor, assistant director or production coordinator--the book has everything you'll need (including all the forms, contracts, releases and checklists) to set up and run a production--from finding a production office to turning over delivery elements.
Even if you know what you're doing, you will be thrilled to find everything you need in one place.
If you're not already working in film production, but think you'd like to be, read the book -- and then decide.
If you choose to pursue this career path, you'll know what to expect, you'll be prepared, and you'll be ten steps ahead of everyone else just starting out.
New topics and information in the fourth edition include:* Low-budget independent films, including documentaries and shorts* Information specific to television production and commercials* The industry's commitment to go green and how to do it* Coverage of new travel and shipping regulations* Updated information on scheduling, budgeting, deal memos, music clearances, communications, digital production, and new forms throughout*Supplementary material and sample forms available at www.focalpress.com/9780240811505
BIC: