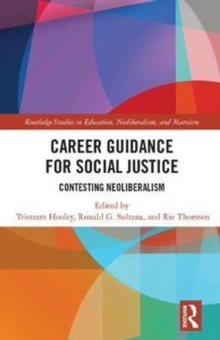 Career guidance for social justice : contesting neoliberalismVolume 1,: Context, theory and research
1138087386 / 9781138087385
This edited collection examines the intersections between career guidance, social justice and neo-liberalism.
Contributors offer an original and global discussion of the role of career guidance in the struggle for social justice and evaluate the field from a diverse range of theoretical positions.
Through a series of chapters that positions career guidance within a neoliberal context and presents theories to inform an emancipatory direction for the field, this book raises questions, offers resources and provides some glimpses of an alternative future for work.
Drawing on education, sociology, and political science, this book addresses the theoretical basis of career guidance's involvement in social justice as well as the methodological consequences in relation to career guidance research.
BIC:
JKS Social welfare & social services, JNAM Moral & social purpose of education, JNF Educational strategies & policy, JNH Education: care & counselling of students, JNP Adult education, continuous learning, JNR Careers guidance