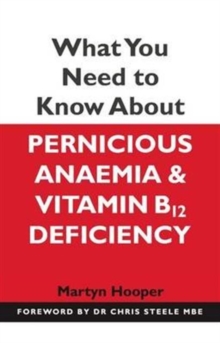 What You Need to Know About Pernicious Anaemia and Vitamin B12 Deficiency
1781610517 / 9781781610510
138 x 216 mm 320 pages, 10 maps and diagrams
Are you constantly exhausted? Does sleep not refresh you? Is your balance not what it was? Do you have tingling or even burning in your fingers and toes?
Then your problem may be vitamin B12 deficiency. Your doctor may test you for this but your blood levels look OK so what should you do then? Or you may receive treatment but not feel any better?
This book is a guide to the complexities of this deceptively simple problem - how it can be diagnosed, how it can be treated, and how those who have it can cope with the lifelong repercussions.
Incorporating the latest research, and the input of the thousands of members of the Pernicious Anaemia Society, this book is both practical and engaging, illustrated with many personal stories that will resonate with sufferers and their friends and families.
BIC:
MJF Haematology, VFD Popular medicine & health, VFJB Coping with illness & specific conditions