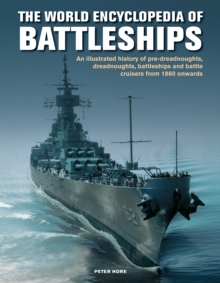 The Battleships, World Encyclopedia of : An illustrated history: pre-dreadnoughts, dreadnoughts, battleships and battle cruisers from 1860 onwards, with 500 archive photographs
075483459X / 9780754834595
205 x 267 mm 256 pages, 500 photographs and illustrations
An illustrated history of battleships, their origins and evolution, this meticulously researched book begins with a history of the battleship, from the first ironclad wooden-hulled ships of the 19th century to the revolutionary Dreadnoughts of World War I and the mighty battleships and battle cruisers of World War II.
It includes a country-by-country directory of battleships, with details about each vessel's history, construction, appearance and function.
Featuring more than 150 ships - including Dreadnought, Hood, New Jersey, Bismarck and Nagato - specification boxes provide at-a-glance information about each ship's country of origin, launch date, size, weight, armament, power, performance and complement, and includes facts and anecdotes about the famous battles and naval operations in which these ships played a role.
Featuring over 550 photographs from naval and military sources worldwide, many rarely seen before, this is a must-have reference book for everyone interested in the battleships that have helped to make history.
BIC: