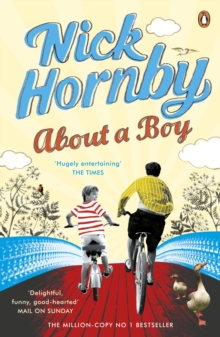 About a boy
0241950228 / 9780241950227
Reprint. Originally published: London: Gollancz, 1998.
"About a Boy" is Nick Hornby's comic and heart-warming million-copy bestseller "How cool was Will Freeman?" Too cool!
At thirty-six, he's as hip as a teenager. He's single, child-free, goes to the right clubs and knows which trainers to wear.
He's also found a great way to score with women: attend single parents' groups of available (and grateful) mothers, all hoping to meet a Nice Guy.
Which is how Will meets Marcus, the oldest twelve-year-old on the planet.
Marcus is a bit strange: he listens to Joni Mitchell and Mozart, looks after his mum and has never owned a pair of trainers.
But Marcus latches on to Will - and won't let go. Can Will teach Marcus how to grow up cool? And can Marcus help Will just to grow up? This astonishing novel, now a modern classic, was adapted for the acclaimed 2002 film "About A Boy", starring Hugh Grant and Nicholas Hoult.
Fans of "One Day" by David Nicholls and "Any Human Heart" by William Boyd will devour this book, as will lovers of fiction everywhere. "A stunner of a novel. Utterly read-in-one-day, forget-where-you-are-on-the-tube-gripping". (Marie Claire). "About the awful, hilarious, embarrassing places where children and adults meet, and Hornby has captured it with delightful precision". ("Irish Times"). "It takes a writer with real talent to make this work, and Hornby has it - in buckets". ("Literary Review"). Nick Hornby has captivated readers and achieved widespread critical acclaim for his comic, well-observed novels "High Fidelity", "How to be Good", "A Long Way Down" (shortlisted for the Whitbread Award), "Slam and Juliet", "Naked".
His three works of non-fiction, "31 Songs" (shortlisted for the National Book Critics Circle Award), "Fever Pitch" (winner of the William Hill Sports Book of the Year Award) and "The Complete Polysyllabic Spree" are also available from "Penguin".
BIC: