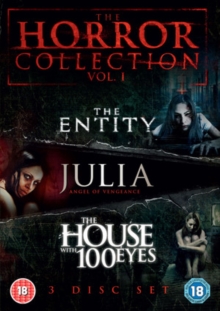 Horror Collection: Volume 1
(18) Suitable for 18 years and over.
Triple bill of horrors. In 'The Entity' (2015) a group of Peruvian students find a recording of people reacting to a reportedly cursed video on the dark web and decide to follow-up with those involved for a college project on reaction videos.
In their investigation, the friends discover that the trio all met similar grim fates and they resolve to find out the mysterious cause by finding out more about the original footage they watched...
In 'Julia' (2014), while on a date with a fellow intern, young New York nurse Julia (Ashley C.
Williams) is drugged, raped and left for dead by her five attackers.
After overhearing a conversation about a new breakthrough therapy to help rape victims Julia seeks counselling from the unorthodox Dr. Sgundud (Jack Noseworthy). When she gains a new feeling of self-empowerment as a result of the radical rehabilitation Julia takes it upon herself to get brutal revenge for her trauma.
In 'The House With 100 Eyes' (2013) Ed (Jim Roof) and Susan (Shannon Malone) are just an average suburban couple but with one key exception: they run a home-made production company making films where people are killed on camera, known as snuff movies.
Determined to push the boundaries of their art, the couple want to make the first ever triple kill feature film.
Documenting their intentions for the movie, the couple search Hollywood for aspiring actors to star in their film.
When they settle on three teenagers, Clutch (Andrew Hopper), Jamie (Larissa Lynch) and Crystal (Liz Burghdorf), the couple offer them each $500 in cash and rig their house with hidden cameras to film their participants and the ensuing horror...