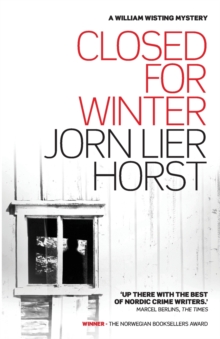 Closed for winter
1908737492 / 9781908737496
Published in Scotland. Translated from the Norwegian.
The multi-award winning series behind the thrilling BBC TV show Wisting starring Carrie Anne Moss, from the producers behind Wallander and The Girl with the Dragon TattooWilliam Wisting has encountered grotesque murders before.
Nonetheless, he finds the savagely beaten corpse in a holiday cottage on the Vestfold coast particularly disturbing.
His daughter Line, finally coming out of a dangerous relationship, finds another body in a boat close by.
There will be more, and a dangerous journey into Euro-crime for Wisting before the case comes to its breath-taking conclusion. By Jorn Lier Horst, the number one bestselling authorPraise for the William Wisting Mysteries:'Up there with the best of the Nordic crime writers.' -The Times'Solid, satisfying police procedurals.' -The Sunday Times'Plotting reigns supreme' -Financial Times'Gripping and well executed.' -The Herald'Immensely impressive.' -Barry Forshaw'A masterpiece of storytelling.' -Lin Anderson--
BIC: