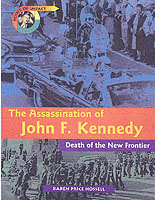 The assassination of John F. Kennedy : death of the new frontier
0431067260 / 9780431067261
27 cm 32 p. : ill. (some col.)
Each of the titles in this series examines a major historical watershed.
The authors recount the chain of events leading up to the event and the repercussions, both immediate and long-term.
They also evaluate the concept of a turning point, assessing in what way this event qualifies.
Differing interpretations are discussed, showing how history is informed by a complicated web of divergent views.
BIC: