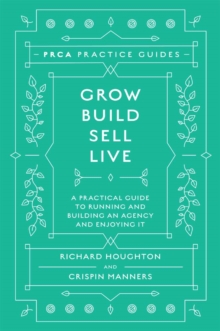 Grow, build, sell, live : a practical guide to running and building an agency and enjoying it
1787568865 / 9781787568860
Agency leaders spend the majority of their time on three areas - their people, clients and new business.
These are all important levers for consultancy growth.
But too often, agency owners forget two more essential tools for growth: attention to the numbers, and investment in their leaders.
The consultancy leadership role can seem like an endless stream of fires to put out.
It can leave leaders feeling as if their team, or their clients, are running their business rather than themselves.
That's where this book comes in. Grow, Build, Sell, Live features practical and implementable advice and tools to address the day-to-day reality of running a successful agency.
In addition to giving guidance on people, clients and new business, the book covers leadership and the numbers in detail to ensure leaders have the tools and knowledge to be in control.
The content draws on proven approaches, helpful science and real-life examples to give practical recommendations to improve readers' ability to achieve the controlled growth which is essential to agency success. If you are thinking about starting your own agency; have started one and hit your first round of growing pains, or are a veteran looking for an exit, this book is for you.
It will appeal to current and aspiring agency owners who want to understand and be conscious of their choices and take control of their agency.
BIC:
KJMV7 Sales & marketing management, KJSP Public relations, VSC Advice on careers & achieving success