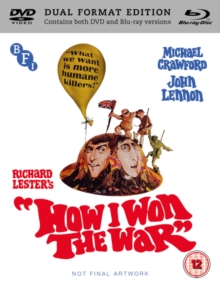 Blu-ray (Blu-ray / with DVD - Double Play)
(12) Suitable for 12 years and over.
Satirical comedy about WWII starring Michael Crawford and John Lennon and directed by Richard Lester.
Bumbling Lieutenant Earnest Goodbody (Michael Crawford) and his ramshackle battalion are assigned the task of building a cricket pitch behind enemy lines in North Africa.
However, Goodbody's ineptitude continually places his troops in serious jeopardy.
The cast also features Roy Kinnear, Lee Montague and Jack MacGowran.