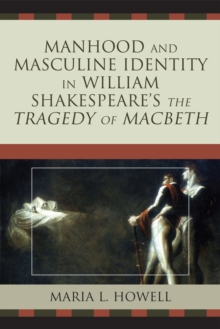 Manhood and Masculine Identity in William Shakespeare's The Tragedy of Macbeth
0761840745 / 9780761840749
Stock expected by 18/12/2019
155 x 232 mm, 100 grams 50 pages
Maria Howell's, Manhood and Masculine Identity in William Shakespeare's The Tragedy of Macbeth, is an important and compelling scholarly work which seeks to examine the sixteenth century's greatest concern, echoed by Hamlet himself, "What is a man?" In an attempt to analyze the concept of manhood in Macbeth, Howell explores the contradictions and ambiguities that underlie heroic notions of masculinity dramatized throughout the play.
From Lady Macbeth's capacity to control and destroy Macbeth's masculine identity, to Macbeth himself, who corrupts his military prowess to become a ruthless and murderous tyrant, Howell demonstrates that heroic notions of masculinity not only reinforce masculine power and authority, paradoxically, these ideals are also the source of man's disempowerment and destruction.
Howell argues that in an attempt to attain a higher principle, the means (violence and destruction) and the ends (justice and peace) become fused and indistinguishable, so that those values that inform man's actions for good no longer provide moral clarity.
Howell's poignant and timely analysis of manhood and masculine identity in Shakespeare's Macbeth will no doubt resonate with readers today.
BIC: