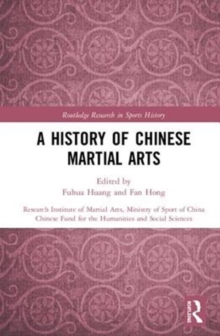 A history of Chinese martial arts
1138645583 / 9781138645585
24 cm 312 pages : illustrations (black and white)
Postgraduate, Research & Scholarly Learn More
Undergraduate
Chinese martial arts have a long, meaningful history and deep cultural roots.
They blend the physical components of combat with strategy, philosophy and tradition, distinguishing them from Western sports. A History of Chinese Martial Arts is the most authoritative study ever written on this topic, featuring contributions from leading Chinese scholars and practitioners.
The book provides a comprehensive overview of all types of Chinese martial arts, from the Pre-Qin Period (before 222 BC) right up to the present day in the People's Republic of China, with each chapter covering a different period in Chinese history.
Including numerous illustrations of artefacts, weaponry and historical drawings and documents, this book offers unparalleled insight into the origins, development and contemporary significance of martial arts in China. This is a fascinating read for researchers and students working in sports history, Chinese sport and Chinese Studies.
BIC:
1FPC China, WSBX History of sport, WSTM Oriental martial arts