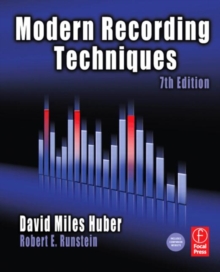 Modern recording techniques (7th ed.)
0240810694 / 9780240810690
24 cm xviii, 654 p. : ill., ports.
Previous ed.: Burlington, Mass.; Oxford: Focal, 2005.
We have entered an exciting age in audio production.
Conventional limitations in recording have subsided or vanished entirely, making it possible to create and record your own music in ways that few ever dreamed possible.
This expanded, up-to-date edition of Modern Recording Techniques can help guide you through the process of creating, understanding and mastering the professional and project studio.
The tips, tricks, and tools in this best-selling book will enable you to record music in new and innovative ways that'll help you express your talents to their fullest potential.
This definitive guide to audio covers the latest audio technologies, and includes expanded and enhanced sections on the Digital Audio Workstation (DAW), plug-ins, looping, groove tools, studio techniques, surround sound, mastering and more.
Accompanied by an interactive companion website (www.modrec.com) featuring a searchable audio glossary, this dynamite book/website combination leaves no recording question unanswered, while offering you the chance to share ideas, get tips, and seek out advice when and where you need it. With Modern Recording Techniques, 7th ed., you can: * Explore the tools for getting better results in both the professional and project recording studio * Gain in-depth insights into digital audio technology, the digital audio workstation (DAW), surround sound production, electronic music and MIDI, synchronization, analog and digital console technology, mixing, console automation and more * Master the basics of dynamics, noise reduction, and other forms of signal processing in both the analog and the digital domains * Learn practical microphone placement techniques, monitoring fundamentals, CD mastering and important tips on getting your music to market * Check out new developments in new media, desktop audio and music technologies for the Web
BIC:
AVX Music recording & reproduction, TT Other technologies & applied sciences
The title has been replaced.To check if this specific edition is still available please contact Customer Care +44(0)1482 384660 or schools.services@brownsbfs.co.uk, otherwise please click 9781138954373 to take you to the new version.
Title Unavailable: Out of Print
Other Formats