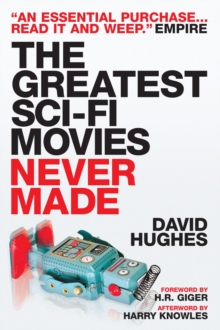 The greatest sci-fi movies never made (Rev. and expanded ed)
1845767551 / 9781845767556
Stock expected by 30/07/2021
Steven Spielberg's "Night Skies", Stanley Kubrick's "Childhood's End", Philip Kaufman's "Star Trek: Planet of the Titans", Kevin Smith's "Six Million Dollar Man", Tim Burton's "Superman Lives", James Cameron's "Alien 5"...These are just some of the legendary unmade films covered in this groundbreaking book.
This fully updated edition also reveals the fascinating details of the movies that nearly were: what would James Cameron's version of "Spider-Man", or Terry Gilliam's "Watchmen" have been like?
How close did Ridley Scott come to directing "I Am Legend" starring Arnold Schwarzenegger, and why was Nicolas Cage paid $20 million for not playing Superman?
BIC: