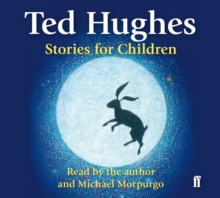 The children's stories of Ted Hughes
0571259502 / 9780571259502
Compact disc. Read by the author.
A selection of Ted Hughes's wonderfully vivid children's fiction, read by the author and selected and introduced by Michael Morpurgo. The recordings include The Iron Man; Creation Tales for the Very Young :Long Ago When the World Was Brand New...
How the Whale Became, How the Polar Bear Became, How the Cat Became, How the Hare Became.
Creation Tales for Children aged 8+ The Guardian, The Invaders, The Playmate and The Dancers.
Creation Tales for Children aged 10+: The Dreamfighter, Gozzie, Camel, The Grizzly Bear and the Human Child
BIC: