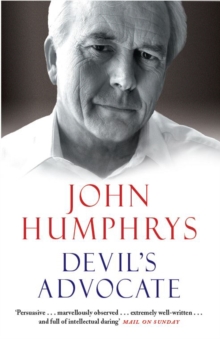 Devil's advocate
0099279657 / 9780099279655
general Learn More
research & professional
undergraduate
Reprint. Originally published: London: Hutchinson, 1999.
________________________For decades, John Humphrys has been at the beating heart of the BBC's news division. From the 9 O'Clock News desk to his marathon 32-year stint on the Today Programme, Humphrys has had a remarkable career as a journalist, steering the coverage of stories and issues that have defined multiple generations of British life.
If the country has a pulse, John Humphrys is the man whose finger is firmly on it. In Devil's Advocate, Humphrys draws on his immense experience to detail the huge, sweeping changes that have overtaken Britain during his career.
From the thorny geopolitical questions of the UK's relationship with Europe and America to the subtler ways our national social and moral values have changed, Humphrys sees a deep unease at the heart of a divided union, and identifies what truly links us all: consumer populism. As our lives and media become increasingly commercialised, the fabric of daily life begins to fray and a growing thoughtlessness and even hysteria emerge in public debate.
Our children, growing up online, are losing their innocence at an ever-earlier age.
In an age when our control over the world seems to be fraying, Humphrys wonders if we've ever had much say in our destination. A brilliant and incisive analysis of the changing state of Britain from one of the leading lights of BBC journalism.
BIC:
1DBK United Kingdom, Great Britain, BG Biography: general, JFC Cultural studies, JFF Social issues & processes, JP Politics & government