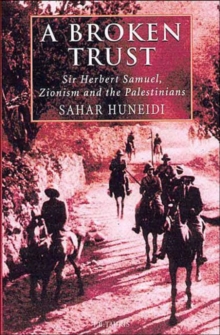 A broken trust : Sir Herbert Samuel, Zionism and the Palestinians
1860641725 / 9781860641725
Stock expected by 23/04/2021
postgraduate Learn More
research & professional
undergraduate
Sir Herbert Samuel, the first British High Commissioner in Mandatory Palestine (1920-1925) and only the second Jew after Disraeli to have reached such a high position in the British government, is generally seen as an impartial administrator.
However, in this book, Sahar Huneidi contests this claim, arguing that most of the measures Samuel took during his time in Palestine were designed to prepare the ground not simply for the "Jewish national home" promised in both the Balfour Declaration and the Mandate of Palestine, but a Jewish state.
Using a range of sources - many previously unknown - Huneidi charts Samuel's career in Palestine against the complex background of British policy in the region, the Zionist movement at its inception, and the emergent Palestinian Arab nationalist movement.
BIC:
1FBP Palestine, 3JJF c 1914 to c 1918 (including WW1) , 3JJG c 1918 to c 1939 (Inter-war period), 3JJH c 1939 to c 1945 (including WW2), 3JJP c 1945 to c 2000 (Post-war period), HBJF1 Middle Eastern history, HBLW 20th century history: c 1900 to c 2000, JFSR1 Jewish studies