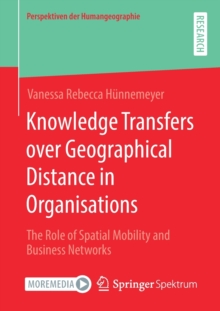 Knowledge Transfers over Geographical Distance in Organisations : The Role of Spatial Mobility and Business Networks (1st ed. 2020)
3658310170 / 9783658310172
148 x 210 mm 302 pages, 10 Illustrations, color; 63 Illustrations, black and white; XXX, 302 p. 73 illus., 10 ill
Current corporate structures based on internationalisation and decentralisation are opposed to the nature of the most important resource: knowledge.
The acquisition and exchange of (tacit) knowledge relies on interpersonal interactions and is thus time- and place-dependent.
Given that the combination of heterogeneous knowledge stocks furthers innovation, organisations develop strategies to ensure the transfer of knowledge.
To enable intra-organisational knowledge flows spatial mobility at the workplace affects a wide range of employees. The study examines in which ways spatially mobile employees, i.e. expatriates, contribute to those knowledge flows. The study of ego networks reveals not only social dynamics of knowledge transfer, but the geographical framework allows to discuss knowledge flows from a spatial perspective.
On the one hand, the empirical results confirm their knowledge transfer function.
On the other hand, the relational geographical perspective reveals that expatriates do not represent a homogeneous group, but their roles in the knowledge transfer process, the geographical reach of their networks and their knowledge resources depend on job-, knowledge-, individual- and space-related factors.
BIC:
* Variable discounts between 0% and 15% are applied to items where BBfS cannot determine exact discounts from suppliers.