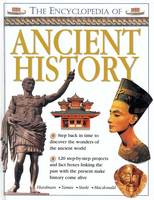 The encyclopedia of ancient history : step back in time to discover the wonders of the ancient world
1843229420 / 9781843229421
Usually dispatched within 4 weeks
22 cm 512 p. : ill. (chiefly col.), col. maps, ports.
Reprint. Originally published: London: Lorenz, 2000.
This title helps you find out about the Stone Age, Ancient Egypt, Ancient Greece, Ancient Rome, the Aztec and Maya, the Incas, Ancient China and Ancient Japan.
Shown in more than 3000 amazing colour photographs, illustrations, maps and timelines.
Important dates, events and facts highlighted in boxes, timelines and information panels.
Explore the ideas, discoveries and technology that have shaped the human race since the beginning of time.
Nothing is more fascinating for children than to see and understand the way their ancestors lived - whether it is the Roman gladiatorial games in the Coliseum, Stone Age men making primitive weapons with which to hunt and bring down mammoths, Aztec and Mayan children playing some of the earliest versions of today's sports and games, or children in Ancient Greece and China wearing stunning, colourful fashions and experimenting with jewellery and make-up.
With the fabulous visual material and accessible and authoritative text in this volume, children can step back in time to discover the wonders of the ancient world.
There are over 120 fantastic step-by-step projects and activities to make history come alive.This is the perfect, easy-to-use volume for children to get insights into key aspects of human history.
BIC:
YNH History & the past: general interest (Children's / Teenage)
* Variable discounts between 0% and 15% are applied to items where BBfS cannot determine exact discounts from suppliers.