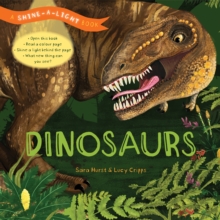 1782405925 / 9781782405924
27 cm 36 unnumbered pages : chiefly illustrations (black and white, and colour)
What is hidden in the world around us? For ages 3 and up, the uniquely designed Shine-A-Light series of books uncovers the facts behind a diverse range of places and topics through hidden images that are revealed by light.
First, view a full-colour scene and read about what is pictured-but what else is there?
Shine a flashlight behind the page, or hold it up to the light, to reveal what is hidden.
Turn the page to read fun facts about the hidden image in black and white.
A world of surprises awaits!What amazing creatures can you find within these pages?
Children will love exploring this beautifully illustrated Shine-a-Light title, packed with all sorts of habitats and the different dinosaurs that lived in them.
Full-colour artwork gives an insight into dinosaurs big and small, including paleontologists discovering some enormous bones on an exciting dig. Other titles in the 'Shine-A-Light.' series: Shine-A-Light: Secrets of Animal Camoflage Shine-A-Light: Secrets of the Rainforest Shine-A-Light: Secrets of our Earth
BIC:
Title Unavailable: Out of Print