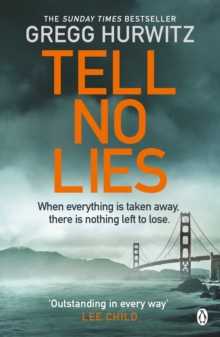 Tell no lies
1405912588 / 9781405912587
Reprint. Originally published: New York: St. Martin's Press, 2013.
Tell No Lies is the outstanding new thriller from Gregg Hurwitz. NO CHOICEDaniel Brasher is leaving behind his job as a probation counsellor working with hardened criminals to spend more time with his wife, now well again after serious illness. However, nothing is ever that simple . . . NO TIMEWhen he finds a scrawled message in the post at work - 'admit what you've done or you will bleed for it.
You have 'til midnite' - he is horrified but relieved to discover it's not addressed to him. Then he learns that the intended victim is already dead. NO ESCAPEMore death threats signal a series of gruesome, seemingly inexplicable murders.
Until a note is addressed to Daniel himself. And with the clock ticking he must discover who wants him dead. And why. Or become the next victim . . . Perfect for fans of Harlen Coben and Linwood Barclay, Tell No Lies is Gregg Hurwitz's best thriller yet, guaranteed to keep readers up all night.
Praise for Gregg Hurwitz: 'Outstanding in every way' Lee Child'Pure nail-biting stay-up-all-night suspense' Harlan Coben'Thriller writing at its best' Tess Gerritsen'Memorable as hell' James Patterson'Gripping.
Hurwitz knows how to write a thriller' Michael Connelly'Simply brilliant' Anne Rice'So fast it should come with and airbag' Linwood Barclay'Chilling and riveting' Jonathan Kellerman'Gregg Hurwitz deservedly takes his place at the forefront of suspense writers' David Baldacci'A quantum leap forward in suspense' Dennis Lehane'Exerts a vice-like grip on the reader . . . reminiscent of another American master, Harlan Coben' CrimetimeGregg Hurwitz is the internationally bestselling author of You're Next, Or She Dies, We Know and I See You.
A graduate of Harvard and Oxford Universities, he lives with his family in California, where he writes screenplays, television and comics including Batman and Wolverine.
BIC: