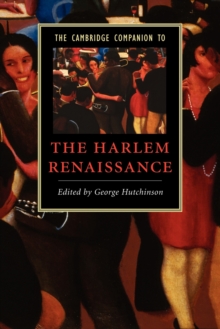 The Cambridge companion to the Harlem Renaissance
0521673682 / 9780521673686
Usually dispatched within 4 weeks
The Harlem Renaissance (1918 1937) was the most influential single movement in African American literary history.
Its key figures include W. E. B. Du Bois, Nella Larsen, Zora Neale Hurston, Claude McKay, and Langston Hughes.
The movement laid the groundwork for all later African American literature, and had an enormous impact on later black literature world-wide.
With chapters by a wide range of well-known scholars, this Companion is an authoritative and engaging guide to the movement.
It first discusses the historical contexts of the Harlem Renaissance, both national and international; then presents original discussions of a wide array of authors and texts; and finally treats the reputation of the movement in later years.
Giving full play to the disagreements and differences that energized the renaissance, this Companion presents the best of current wisdom as well as a set of new readings encouraging further exploration of this dynamic field.
BIC:
1KBB USA, 2AB English, DSBH Literary studies: from c 1900 -, JFSL3 Black & Asian studies