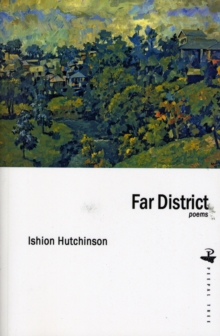 Far District : Poems
1845231570 / 9781845231576
Creating an impressionistic portrait of the poet's boyhood in rural Jamaica, these narrative poems explore the West Indian distrust of European literature and mythology.
Written in both traditional and formless verse, as well as in English and Jamaican patois, the book is structured as the spiritual journey of a poet-speaker caught between two worlds: one a benign culture of bush folk and the other a luminous but dangerous sea of myth.
Thespeakerfears theland of mythbecausehe is loyal to the bush people, but healso desiresto transcend hisphysical and intellectual poverty.
Little by little, the two cultures come together as the speaker begins grafting childhood memory to the world of imagination, shaped by books, art, music, and travel.
At the core of the collection are several elegies to the poet s grandmother, May, who encouraged his young creativity."
BIC: