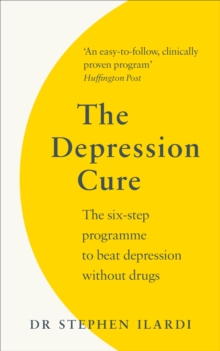 The depression cure : the six-step programme to beat depression without drugs
1785042513 / 9781785042515
Reprint. Originally published: U.S.: Da Capo Press, 2009.
Beat depression now - and for life Based on extensive research with an amazing success rate, The Depression Cure outlines a step-by-step plan for recovery from depression, which focuses on six key lifestyle elements that have largely disappeared in healthy doses from modern life:- physical exercise - omega-3 fatty acids- natural sunlight exposure - restorative sleep- social connectedness- meaningful, engaging activityWith his six-step programme, Dr Ilardi not only makes sense of depression but offers a practical and straightforward plan for recovery.
The Depression Cure is an essential guide for anyone seeking an alternative approach to depression treatment.
BIC: