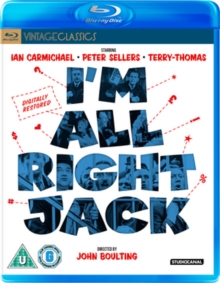 Blu-ray (Blu-ray / Digitally Restored)
(U) Universal, suitable for all.
Ian Carmichael, Peter Sellers, Terry-Thomas and Richard Attenborough star in this classic British comedy which takes a satirical look at trade unions and labour relations.
Upon leaving the army, upper-class twit Stanley Windrush (Carmichael) takes a job in a missile factory.
Before long he has inadvertently started a national strike, which is subsequently mishandled by everyone involved.
Interviews: Liz Fraser (Actor)
Other Documentary: 'Cinefile: Seller's Best'