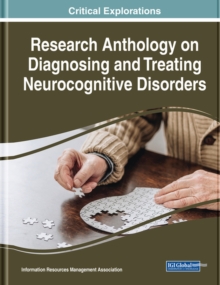 Neurocognitive Disorders : Breakthroughs in Research and Practice
1799834417 / 9781799834410
Cognitive impairment, through Alzheimer's disease or other related forms of dementia, is a serious concern for afflicted individuals and their caregivers.
Understanding patients' mental states and combatting social stigmas are important considerations in caring for cognitively impaired individuals.
Technology is playing an increasing role in the lives of the elderly.
One of the most prevalent developments for the aging population is the use of technological innovations for intervention and treatment of individuals with mental impairments.
Neurocognitive Disorders: Breakthroughs in Research and Practice examines the treatment, diagnosis, prevention, and therapeutic and technological interventions of neurodegenerative disorders.
It also describes programs and strategies that professional and family caregivers can implement to engage and improve the quality of life of persons suffering from cognitive impairment.
Highlighting a range of topics such as dementia, subjective wellbeing, and cognitive decline, this publication is an ideal reference source for speech pathologists, social workers, occupational therapists, psychologists, psychiatrists, neurologists, pediatricians, researchers, clinicians, and academicians seeking coverage on neurocognitive disorder identification and strategies for clinician support and therapies.
BIC:
MJA Medical diagnosis, MJN Neurology & clinical neurophysiology