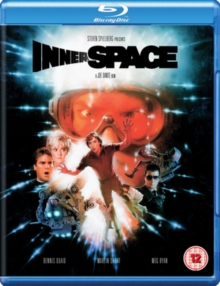 Brazilian Portuguese, Castilian Spanish, Chinese, Danish, Finnish, French, Korean, Latin Spanish, Norwegian, Swedish, Thai
Joe Dante directs this US sci-fi comedy starring Dennis Quaid, Martin Short and Meg Ryan.
Navy pilot Lt. Tuck Pendelton (Quaid) is miniaturised to microscopic proportions for a secret government project but when the lab is broken into he is accidentally injected into the bloodstream of supermarket employee Jack Putter (Short).
Inside his host, Tuck manages to make contact with Jack and explains he only has a few hours of his oxygen supply remaining leaving Jack to find a way to save him by recovering a stolen computer chip, that will help restore him to his normal size, with the help of Tuck's ex-girlfriend, reporter Lydia Maxwell (Ryan).
Commentary: Joe Dante (director), Michael Finnell (producer), Kevin McCarthy and Robert Picardo (actors), Dennis Muren (VFX supervisor)