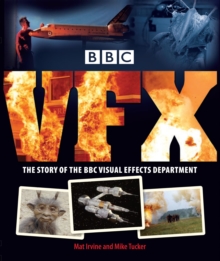 BBC VFX : the history of the BBC visual effects department
1845135563 / 9781845135560
The BBC Visual Effects Department closed its doors in 2003.
For almost fifty years it had been responsible for some of television's most iconic images - from exploding newsreaders on Monty Python's Flying Circus to Blake's 7's majestic Liberator sailing through outer space; from the Queen Vic being engulfed in flames in Eastenders to severed heads dripping blood in The Borgias.
Using interviews with the effects designers themselves, together with hundreds of concept drawings, production photographs and stills from completed programmes, this book tells the story of the VFX Department and celebrates the work of a group of craftsmen who lived by the mantra, 'If it can be imagined, it can be made...' Working largely before the age of cgi, the Department was responsible for every kind of visual effect, from physical effects such as rain and explosions, to miniatures and models, to sculpture and animatronics.
Following a preliminary chapter on effects techniques, the book features in-depth accounts of fifty key shows, representing every genre from sci-fi and drama to comedies and documentaries. In each we see how the designers worked, from receiving the original script to creating the finished effects.
There are numerous anecdotes about their tricks of the trade.
Find out how the Martian's eyes in Quatermass and the Pit were animated using inflated condoms, and how Mrs Slocombe's infamous pussy was manipulated by remote control.
Filled with fascinating insights, wonderful stories and numerous photographs and artworks which have never been published, this is an essential book for FX fans and anyone who loves television
BIC:
APFX Film production: technical & background skills, APT Television