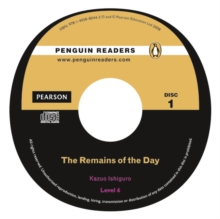 The remains of the day (New ed)
1405880449 / 9781405880442
ELT / TEFL (Teaching of English as a foreign language) Learn More
Reprint. Compact discs This ed. originally published: without accompanying sound discs. 2000.
Contemporary / British English (Available June 2008) It is the summer of 1956, and the ageing butler of Darlington Hall takes a rare holiday.
But it is a journey that will also take him deep into his past.
The Remains of the Day is a remarkable story: a man's exploration of his own life, and his heart-breaking attempt to make sense of it.
BIC:
2AB English, ELH ELT graded readers, ELM ELT non-book material & resources
Title Unavailable: Out of Print
Other Formats