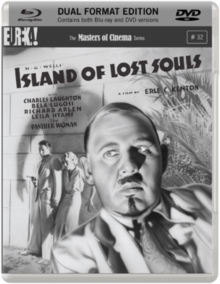 Island of Lost Souls - The Masters of Cinema Series
Blu-ray (Blu-ray / with DVD - Double Play)
Controversial 1930s horror in which a shipwrecked man stumbles upon on island where horrifying experiments are taking place.
When Edward Parker (Richard Arlen) is thrown overboard after a fight with the captain of his ship he is initially happy to land on a populated island.
However, this is no ordinary island. Presided over by the insane scientist, Dr Moreau (Charles Laughton), a series of experiments are underway to transform animals into humans.
As they descend towards chaos Parker finds himself caught uncomfortably in the middle.
Interviews: Jonathan Rigby (Critic/Historian)