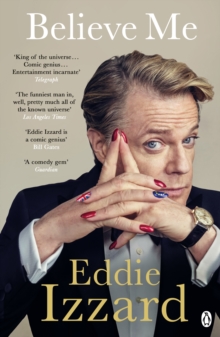 Believe me : a memoir of love, death and jazz chickens
140592201X / 9781405922012
20 cm 376 pages, 16 unnumbered pages of plates : illustrations (black and white, and colour)
Reprint. Originally published: UK: Michael Joseph, 2017.
Get to know a national icon in Eddie Izzard's hilarious and dazzling autobiography'Comic genius . . . Entertainment incarnate' Telegraph______Star of stage and screen.
Tireless supporter of charity. Marathon runner. Political campaigner. Fashion icon. Human. There is no one quite like Eddie Izzard. This is the story of how she broke through. Her relentless optimism has led her to always do things her own way, even if it didn't work the first time, and her incredible self-belief has pushed her to keep on trying, even if it didn't work the second or third time either. Whether she was putting on teddy bear shows on boarding school beds or swordfighting on the streets of London, Eddie never stopped trying to achieve her dreams of becoming a performer. Brimming with her distinctively surreal humour and disarming candour, Believe Me tells the story of a person who never took no for an answer. ______'This book is a raw, honest exploration of what it means to live your truth, to be unapologetically ambitious.
It's about being brave. And hilarious' Chelsea Handler'Laughter trumps sorrow in candid comedian Eddie Izzard's Believe Me' Vanity Fair'A comedy gem' Guardian
BIC:
1DBK United Kingdom, Great Britain, 1FBXY Yemen, 3JJ 20th century, 3JM 21st century, ASZB Performing arts: comedy, BM Memoirs