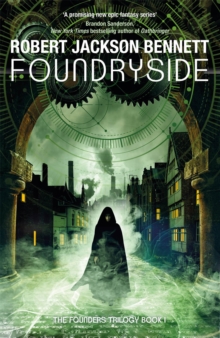 Foundryside
1786487853 / 9781786487858
Reprint. Originally published: 2018.
'The exciting beginning of a promising new epic fantasy series.
Prepare for ancient mysteries, innovative magic, and heart-pounding heists' Brandon Sanderson, New York Times bestselling author of OathbringerShe thought it was just another job.
But her discovery could bring the city to its knees . . . In the city of Tevanne, you either have everything, or nothing.
For escaped slave Sancia Grado, eking out a precarious living in the hellhole known as the Commons, nothing is just one misstep away. So when she is offered a lucrative job to steal an ancient artefact from a heavily guarded warehouse, she leaps at the chance. But instead of a way out of Tevanne, she finds herself the target of a murderous conspiracy. Someone powerful wants the artefact, and Sancia dead. To survive, Sancia will need every ally and every ounce of wits at her disposal - because if her unknown enemy unlocks the artefact's secrets, the world - and reality - will never be the same. 'Robert Jackson Bennett deserves a huge audience' Brent Weeks'An altogether terrific read' Sebastien de Castell'Intricate worldbuilding, fascinating magic, and engaging characters.
More please!' Felicia Day'Inventive, immersive, and thrilling . . . Do yourself a favor and pick this up!' Kevin Hearne
BIC: