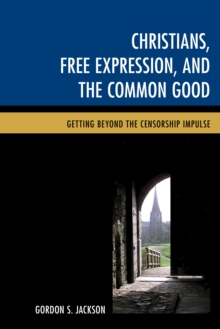 Christians, free expression, and the common good : getting beyond the censorship impulse
1498504019 / 9781498504010
Stock expected by 14/12/2019
Christians of all theological and political backgrounds ought to be ardent advocates of advancing, not curbing, freedom of speech within their own ranks and in the increasingly secular societies in which they live.
Christians, Free Expression, and the Common Good presents the concept of free expression, and its opposite of censorship, as a tool for the Western church (and the U.S. church in particular) to respond more wisely and effectively to controversy.
In their most severe form, these controversies lead to both formal and informal limitations on free expression, as Christians seek to silence those with whom they most stridently disagree.
This study is timely given the Western church's current state of flux as it tries to determine its identity and mission in a post-Christian setting.
Christians, Free Expression, and the Common Good will appeal to a wide range of thoughtful religious scholars and others who would welcome ideas on how the church should refine and live out its mission in the early twenty-first century.
BIC:
HRAM1 Religious ethics, HRCX6 Christian social thought & activity, JPVH2 Freedom of information & freedom of speech