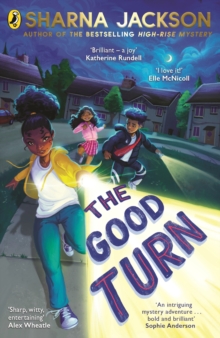 The good turn
0241523591 / 9780241523599
Stock expected by 03/06/2022
Fiction of Black and Asian Interest
20 cm 381 pages : map (black and white)
From the award-winning author of High Rise Mystery'Brilliant; a joy to the very end' Katherine Rundell 'I love it!' Elle McNicoll A sharp, funny middle grade adventure with themes of real-life activism and how to help others for fans of The Goonies and The London Eye Mystery. Josephine Williams is a future-focused, internet-loving eleven-year-old who is desperate to explore the world beyond her cul-de-sac - and her browser. When she learns about Josephine Holloway - a woman who started the first Girl Scout Troop for Black girls in America - she's certain she must start her own. Enlisting her friends Margot Anderson and Wesley Evans, the trio begin their quest for their Camping Badge.
Drawn to an abandoned factory nearby, they stumble across something strange.
A square, ancient television and two tatty armchairs.
Beside it, a wooden sideboard with an old photograph of a young, happy couple. What is this? Who, or what, lives here - and why? 'An intriguing mystery adventure . . . bold and brilliant' Sophie Anderson'A joy to read.' Alex Wheatle 'A funny, warm and thought-provoking celebration of community of all kinds' Anna James Praise for Sharna Jackson: 'Jackson's voice is distinct and original, while her deft characterisation and evocation of place make for a funny, engaging modern mystery' - Guardian 'This story reads with a rare freshness and energy.
The voices and the setting are convincing and vivid... an intriguing mystery' - The Times
BIC:
5AK Interest age: from c 9 years, YFCB Thrillers (Children's / Teenage), YFCF Crime & mystery fiction (Children's / Teenage), YFN Family & home stories (Children's / Teenage)