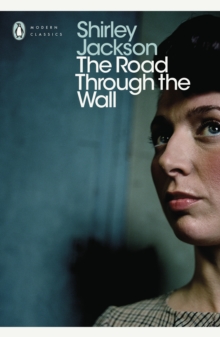 The road through the wall ([New] edition)
0141392002 / 9780141392004
Reminiscent of her classic story 'The Lottery', Jackson's disturbing and darkly funny first novel exposes the underside of American suburban life. 'Her books penetrate keenly to the terrible truths which sometimes hide behind comfortable fictions, to the treachery beneath cheery neighborhood faces and the plain manners of country folk; to the threat that sparkles at the rainbow's edge of the sprinkler spray on even the greenest lawns, on the sunniest of midsummer mornings' Donna TarttIn Pepper Street, an attractive suburban neighbourhood filled with bullies and egotistical bigots, the feelings of the inhabitants are shallow and selfish: what can a neighbour gain from another neighbour, what may be won from a friend?
One child stands alone in her goodness: little Caroline Desmond, kind, sweet and gentle, and the pride of her family.
But the malice and self-absorption of the people of Pepper Street lead to a terrible event that will destroy the community of which they are so proud.
Exposing the murderous cruelty of children, and the blindness and selfishness of adults, Shirley Jackson reveals the ugly truth behind a 'perfect' world. Shirley Jackson's chilling tales have the power to unsettle and terrify unlike any other.
She was born in California in 1916. When her short story The Lottery was first published in The New Yorker in 1948, readers were so horrified they sent her hate mail; it has since become one of the greatest American stories of all time.
Her first novel, The Road Through the Wall, was published in the same year and was followed by five more: Hangsaman, The Bird's Nest, The Sundial, The Haunting of Hill House and We Have Always Lived in the Castle, widely seen as her masterpiece.
Shirley Jackson died in her sleep at the age of 48. 'An amazing writer' Neil Gaiman'Shirley Jackson is one of those highly idiosyncratic, inimitable writers ... whose work exerts an enduring spell' Joyce Carol Oates'An unburnished exercise in the sinister' The New York Times
BIC: