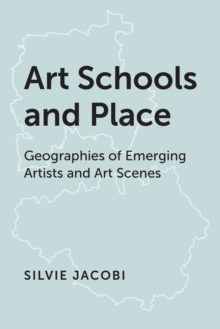 Art schools and place : geographies of emerging artists and art scenes
1786614715 / 9781786614711
23 cm 187 pages : illustrations (black and white)
Art education has a definite impact on artists' sense of place and their spatial relations.
Exploring where and why artists choose to locate is the first step in describing an art 'scene' ethnographically.
This research considers coming to and going through art school as a crucial inter-subjective learning environment.
Artists learn not just to engage with place through spatial and relational practices, but gain a sense of mobility and transnational flows in a globalized art world. This book is the first time the art school has been studied this way in the nascent field of art geography, lending from the tool kits of human geography and urban studies.
This is timely against the backdrop of worldwide university closes of space and cost intensive fine art courses as a triumph of managerialism and business-case over education.
This volume can help highlight how investment in this form of education has an important capacity for nurturing art scenes and feeding into the community at large.
BIC:
AB The arts: general issues, JNU Teaching of a specific subject, RGC Human geography