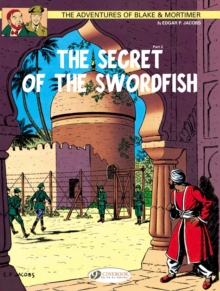 The secret of the SwordfishPart 2,: Mortimer's escape
1849181616 / 9781849181617
29 cm 56 pages : chiefly illustrations (colour)
Translated from the French.
Fleeing the devastation of World War III, Blake, Mortimer and Nasir have been trying to reach a secret base with the blueprints for a new weapon, the Swordfish.
But the forces of the Yellow Empire are hot on their trail, and soon Mortimer is captured.
While Blake works tirelessly at coordinating the various resistance movements on the planet, the professor is forced to endure captivity, threats and torture from their eternal enemy, Olrik. Captain Francis Blake, dashing head of England's MI5.
Professor Philip Mortimer, world-renowned nuclear physicist.
The most distinguished duo of gentleman-adventurers, battling the forces of evil and their arch nemesis, Olrik, around the globe, below the earth, even across time itself...The 16th adventure of Her Majesty's finest protectors!
BIC:
5AJ Interest age: from c 8 years, FX Graphic novels, YFW Comic strip fiction / graphic novels (Children's / Teenage)