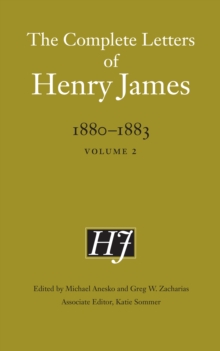 The Complete Letters of Henry James, 1880-1883 : Volume 2
1496201183 / 9781496201188
159 x 254 mm 376 pages, index
Recipient of the Approved Edition seal from the Modern Language Association's committee on scholarly editions This volume of The Complete Letters of Henry James, 1880-1883 includes 178 letters, 98 of which are published for the first time, written from November 1, 1881, to January 1, 1883.
The letters record Henry James's establishment as one of the preeminent professional writers in Britain and the United States and follow James's return journeys to the United States following the deaths of his parents.
This volume concludes with James's assumption of his role as the executor of his father's will and thus the de facto head of the family.
BIC: