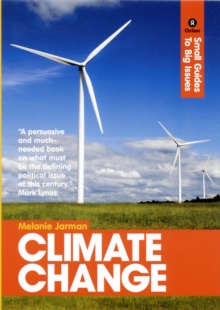 0745325807 / 9780745325804
Stock expected by 24/06/2021
What are the global challenges of the twenty-first century?
Heatwaves, long droughts and freak storms all indicate one thing: the world's climate is changing.
This book examines the reality of climate change, and outlines the immediate action that needs to be taken worldwide. Governments have been slow to face up to the issues, and there is much disagreement on how to tackle them.
Melanie Jarman shows that there is a growing movement of countries beginning to adapt to the challenges of climate change.
Outlining their solutions, she explains what countries such as the US and UK must do to catch up. The Small Guides to Big Issues series de-bunks myths and raises questions about the global economic and political system and how it works.
They are designed for campaigners and activists, students and researchers, and anyone interested in looking behind the headlines.
Produced in partnership with Oxfam, each book provides an informative and thought-provoking guide to current trends and debates, and what needs to happen in order to end poverty and injustice.
BIC: