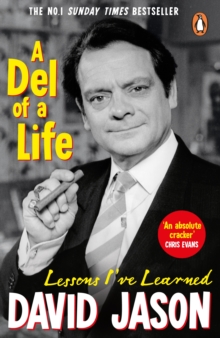 A Del of a life
1787465365 / 9781787465367
20 cm x, 316 pages, 16 unnumbered pages of plates : illustrations (black and white, and colour)
Reprint. Originally published: London: Century, 2020.
THE #1 SUNDAY TIMES BESTSELLER: a hilarious and heartfelt new autobiography from the national treasure Sir David Jason'There are British telly icons and then there is Sir David Jason.
This book is such gold . . . an absolute delight' ZOE BALL___________________________'During my life and career I have been given all sorts of advice and learned huge amounts from some great and enormously talented people.
I've been blessed to play characters such as Derek Trotter, Granville, Pop Larkin and Frost, who have changed my life in all sorts of ways, and taught me lessons that go far beyond the television set. And I've worked a few things out for myself as well, about friendship, ambition, rejection, success, failure, adversity and fortune. With any luck, some of these thoughts and observations will chime with episodes and challenges you have faced, or are facing, in your own life. And if they don't. . . well, hopefully, at the very least you'll get to have a good old laugh at my expense. So lean back, pour yourself a glass, and try not to fall through the bar flap . . .'___________________________'An absolute delight . . . a romp with so much detail. Offers wisdom in difficult times . . . like being invited into his living room' BBC BREAKFAST'It's beautifully written . . . so conversational and chatty . . . it's so lovely and warm' CHRIS MOYLES
BIC:
BGFA Autobiography: arts & entertainment, BM Memoirs, WH Humour